Lavelle Design is Roxanne Lavelle…That's me!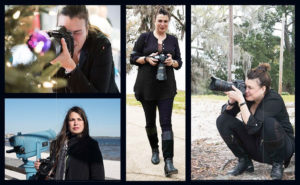 What started as a side-gig in 2005 became a side-business shortly thereafter as friends and family began sending referrals my way. 15+ years later, I have a full-blown career as Web Master for a local college and as the owner of Lavelle Design.
Though I've worked with large national corporations, my joy has always been working side-by-side with American small business owners. Translating their hopes, dreams, and ideas onto a digital canvas and seeing them take pride in the branding I helped create is why I do what I do. Nothing thrills me more than to be instrumental to the success of a new business venture!
My Clients, many of whom have been with me since the beginning, will tell you that I'm part of their team– consulting with them honestly and with integrity while working diligently to curate their brand–  we do it together!
In my spare time (what little there is, ha!) I'm always creating something– I'm a painter, sculptor, professional photographer, I own a little Etsy store where I sell home goods printed with my drawings and photos…the list goes on. I guess you could say that I am just driven to create!
My family is local and rather large, so I spend a lot of weekend time visiting with them. My amazing parents have 5 daughters of which I am the oldest — I hear this makes me a little on the bossy side, but I just consider myself joyfully direct.
My 3 children are furbabies–Lola Dog, Louis Dog, and Mogwai the Cat. During spring and summer, I AirBnB my chimney out to chimney-swift birds, though they've defaulted on payment for 20+ years. When you call, you'll probably hear them twittering or perhaps you'll hear the pups barking at random joggers, so let me apologize in advance.
I am Lavelle Design.
-Roxanne Rachel Lavelle
(850)366-2210
ideas@lavelledesign.com